Division of Instruction Home
Leading with Instruction
This report captures the progress made by the Instructional Technology Initiative (ITI) and partners since the June 2016 publication of the ITI Task Force, which has been the guiding document for instructional technology efforts District-wide.
Science Implementation Annual Report
A strategic approach to prepare for the full implementation of the California Next Generation Science Standards (CA NGSS), ensuring that all students have access to a rigorous science curriculum and develop scientific literacy that will prepare them to be college and career ready.
LAUSD ELLP Annual Report 2018
The Early Language and Literacy Plan (ELLP) is Los Angeles Unified School District's (L.A. Unified's) initiative to develop an effective multi-tiered system of supports at all elementary schools to address the needs of early emergent to fluent readers, so all students read, write, speak and listen with efficiency and accuracy by the end of second grade.
Middle Grades Resolution Framework and Resources
A framework focused on meeting the needs of the adolescent student by creating environments and experiences that will ensure the personal and academic success of our middle grades students. It identifies areas to address middle grades students' needs: Social Emotional Barometer, Makerspaces, and Houses.
College & Career Plan
A plan collaboratively developed to "rethink possible" for new solutions to meet our students' needs. The plan takes direct aim at the factors that contribute to student dropout, launching new innovative credit recovery and intervention programs that address the immediate needs of students.
College Readiness Block Grant Plan
A grant awarded by the California State Legislature in the Senate Bill 828 from January, 2017 through June, 2019. The purpose of the funding is to increase the number of students who enroll in 2 and 4-year postsecondary institutions and complete an undergraduate degree within four years.
LAUSD Summer of Learning 2023
LAUSD is pleased to announce registration for the Summer of Learning 2023 is now open. Families can enroll students in summer school programs designed to support academics and provide in-person and virtual learning enrichment opportunities such as learn to play bass guitar or ukulele with Fender to cartooning and animation with Illumination, Art and Sciences Camp at all ETK-8th grade school sites, plus internships are available, and so much more. please click on the following link: please click on the following link:
Summer of Learning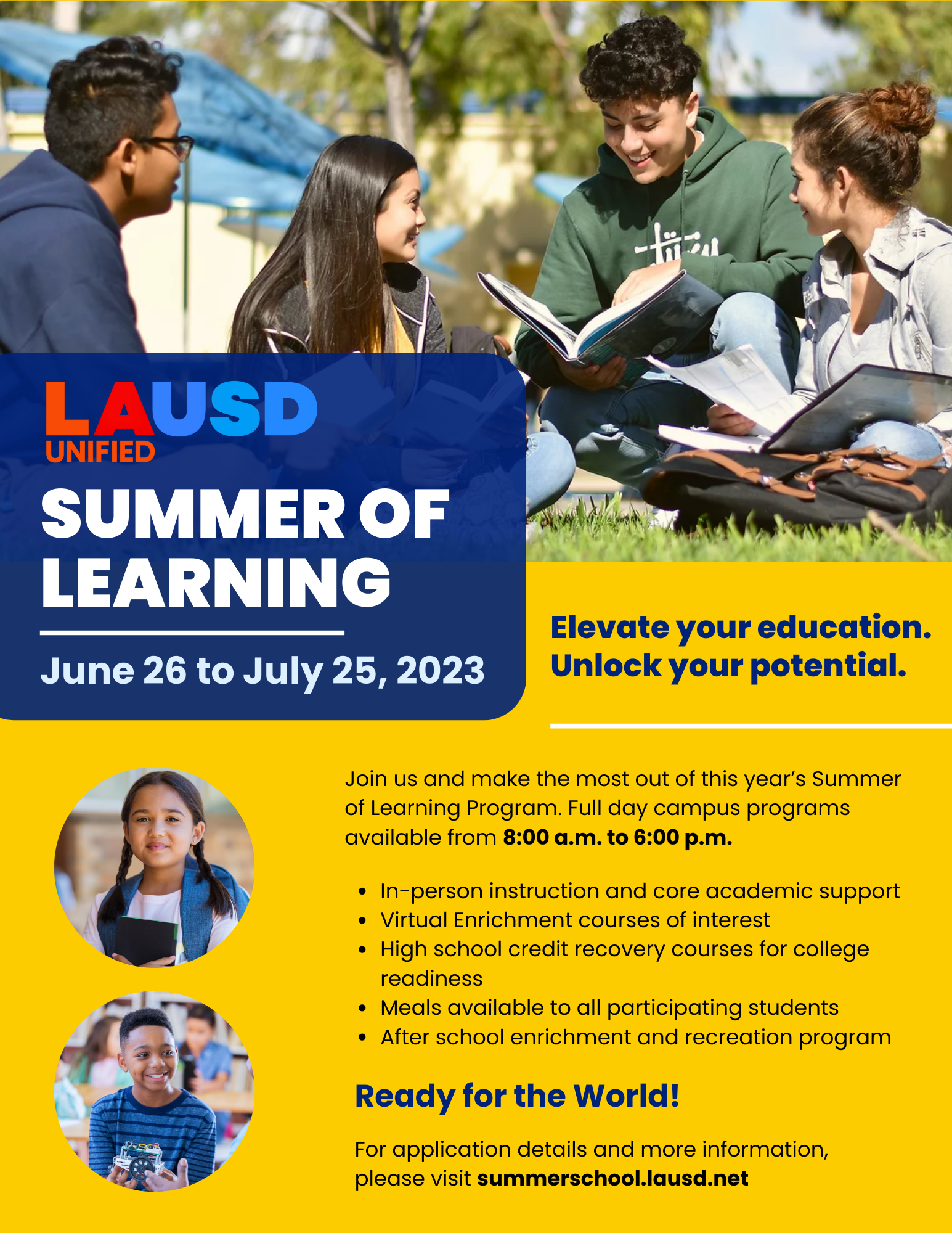 Expanded Learning Opportunities Budget
Teacher Professional Development Calendar
The Division of Instruction has PD opportunities for all teachers in various subjects. Visit the Professional Development Calendar to see what's in the store for the upcoming year. View Calendar