Advocating for Student Voice, Self-Expression, and Creativity with the ISTE Creative Communicator Student Standard
Advocating for Student Voice, Self-Expression, and Creativity with the ISTE Creative Communicator Student Standard
By Wen-Wen Cheng, Instructional Technology Facilitator, Garvanza Elementary Technology & Leadership Magnet, Eagle Rock/Highland Park Community of Schools, Local District Central, Board District 2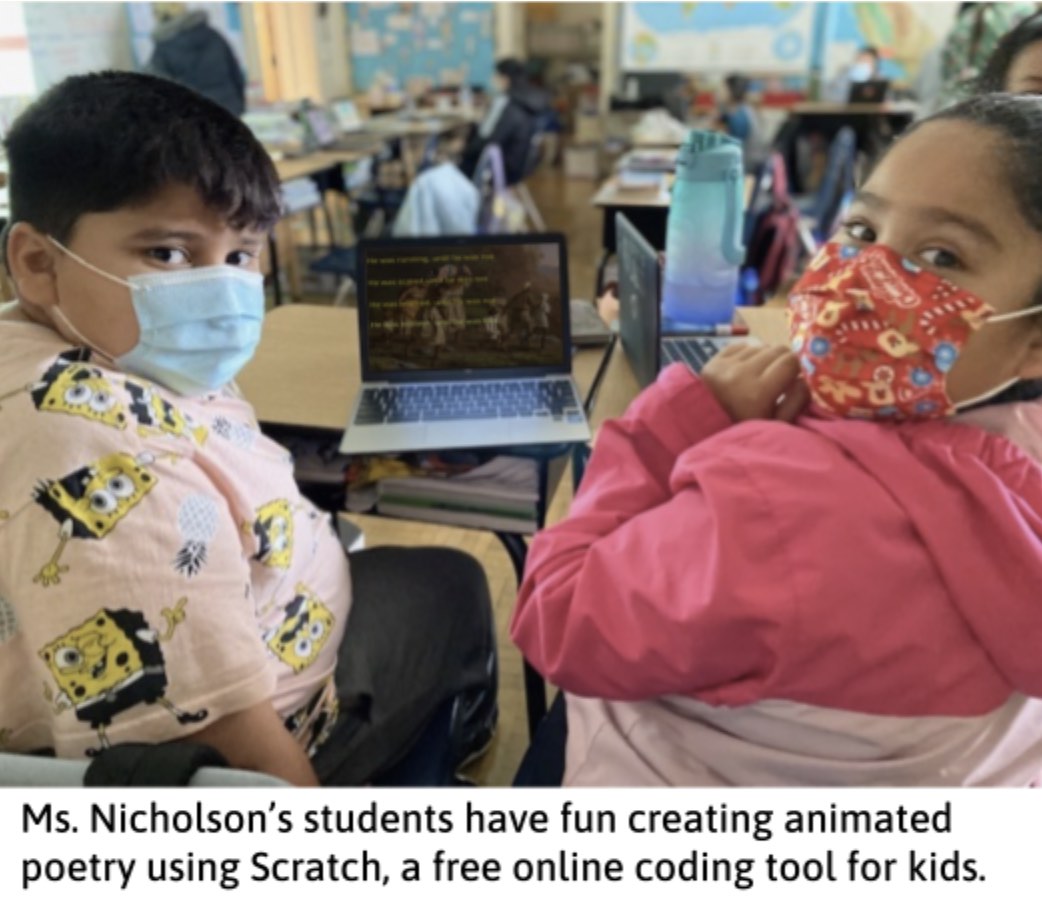 As educators blend innovative, student-friendly technologies more and more with meaningful and real-world learning, our students increasingly thrive as 21st Century Creative Communicators. This is what was observed in a fourth grade classroom located at Garvanza Elementary Technology and Leadership Magnet (GETLM) in the Highland Park neighborhood of Local District Central.
Every February during Black History Month, Ms. Nicholson looks forward to teaching a unit on the Underground Railroad and Quilt Codes, a network and secret codes established in the mid-19th century to help enslaved African-Americans escape to freedom in the North. Even though the emancipation of slavery occurred over a century and a half ago, Ms. Nicholson understands the significant role it plays in shaping our society today. With so many current social justice issues around race and class, equity, freedoms and democracy impacting our students and society at large, Ms. Nicholson hopes that engaging her students with these learning experiences will help them to see its connection to present day and guide them in advocating for a more equitable world in the future.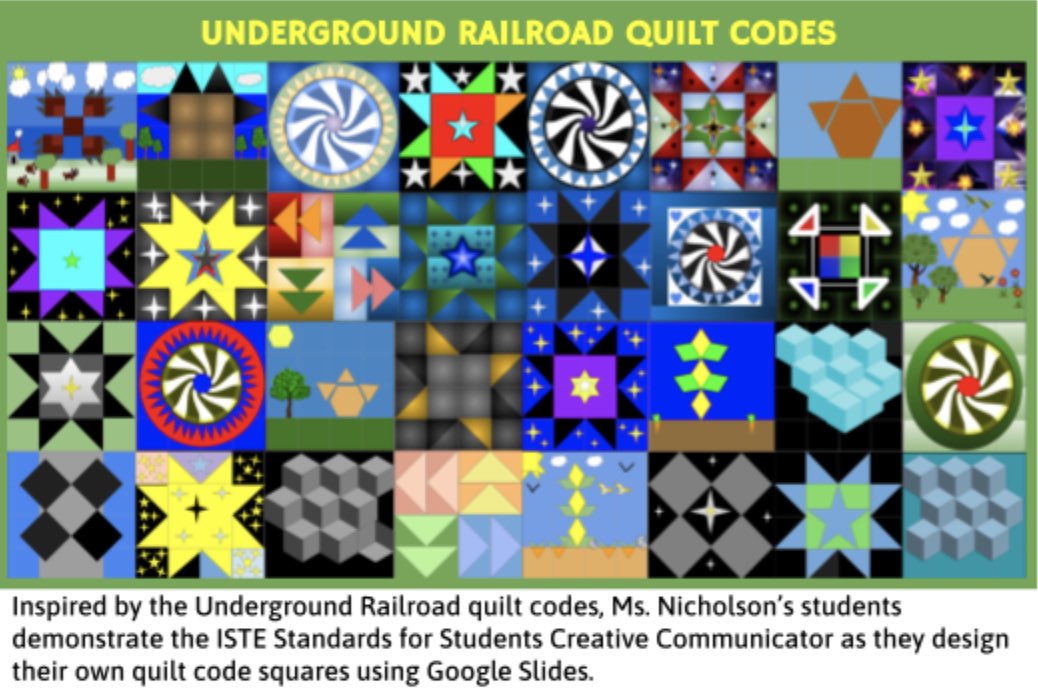 Ms. Nicholson loves facilitating the lessons in this unit that supports the California fourth grade ELA (CCSS.ELA-Literacy.RI.4.3, 4.7) and Arts Standards (4.VA:Cn11, Cr2.1, Pr4, Cn10). The first of a series of lessons starts with the creation of a class quilt that resembles what was used in the Underground Railroad. Quilt codes were often "hidden in plain view" as secret messages to warn and guide the enslaved people to safety and freedom. Before the pandemic, Ms. Nicholson would proudly string together the unique paper quilt squares designed by each of her students to make a class quilt. However, this process became a real challenge during distance learning which led to new learning for Ms. Nicholson about the integration of technology to improve teaching practices.
When Ms. Nicholson expressed her disappointment with her inability to facilitate this experience over virtual learning, Ms. Kennedy, the RSP teacher that supports her classroom, suggested that they consider digitizing the project. Soon after Ms. Nicholson connected with me to ponder about this dilemma over Zoom. We found the solution using the ISTE Standard for Students Creative Communicator. The quilt project was reimagined with Google Slides.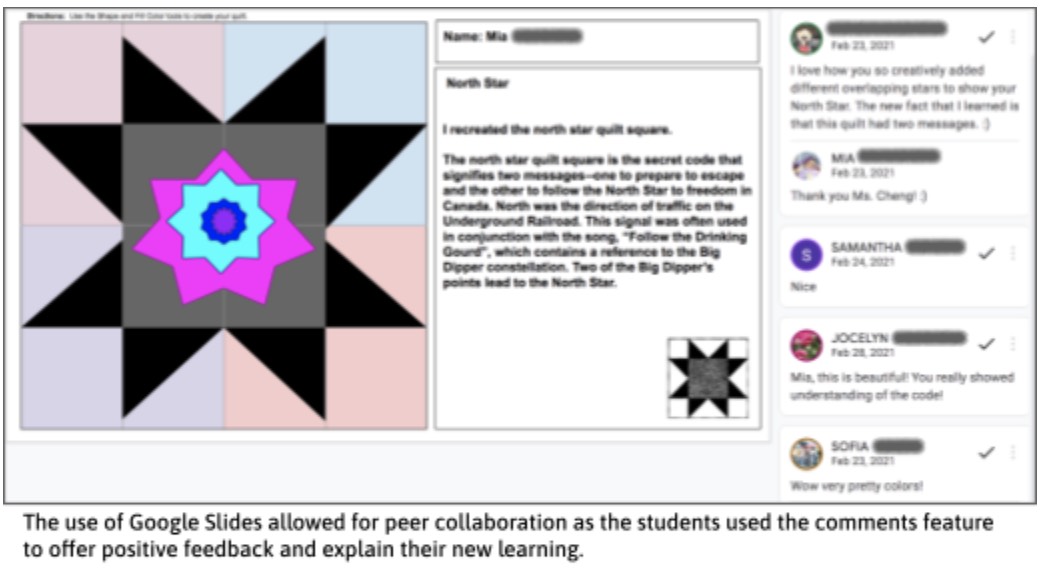 A quilt square in the form of a Google Slide was assigned to each student and, using a variety of tools available in the toolbar, the students digitally designed their unique quilt squares. The use of Google Slides had the added benefit of supporting peer collaboration as the students shared their slides with each other and used the comments feature to offer positive feedback and explain their new learning. The integration of technology in this project allowed for a significant enhancement to student learning and can be identified as Augmentation along the SAMR Model.
Since the students' return to campus this 2021-2022 school year, Ms. Nicholson continues to facilitate the Quilt Codes project using Google Slides. She sees how a simple technology such as Google Slides can spark so much creativity for her students as they interpret and express their learning about the quilt codes.
Within the same unit of study, Ms. Nicholson's students remix an original poem she authored to learn about the Underground Railroad experience. Writing from the point of view of the little girl with the rag doll in "Into the Light" by Lynda Ryan, Ms. Nicholson's poem reads:
Until She Was Not

She was scared, until she was not
She was cold, until she was not
She was hiding, until she was not
She was enslaved, until she was free
The students were tasked with analyzing an image such as "Into the Light" and remixing Ms. Nicholson's poem from the point of view of one individual in the portrait. The goal of this lesson was to help her students understand the theme of enslavement and to gain a deeper understanding and appreciation of the enslaved experience.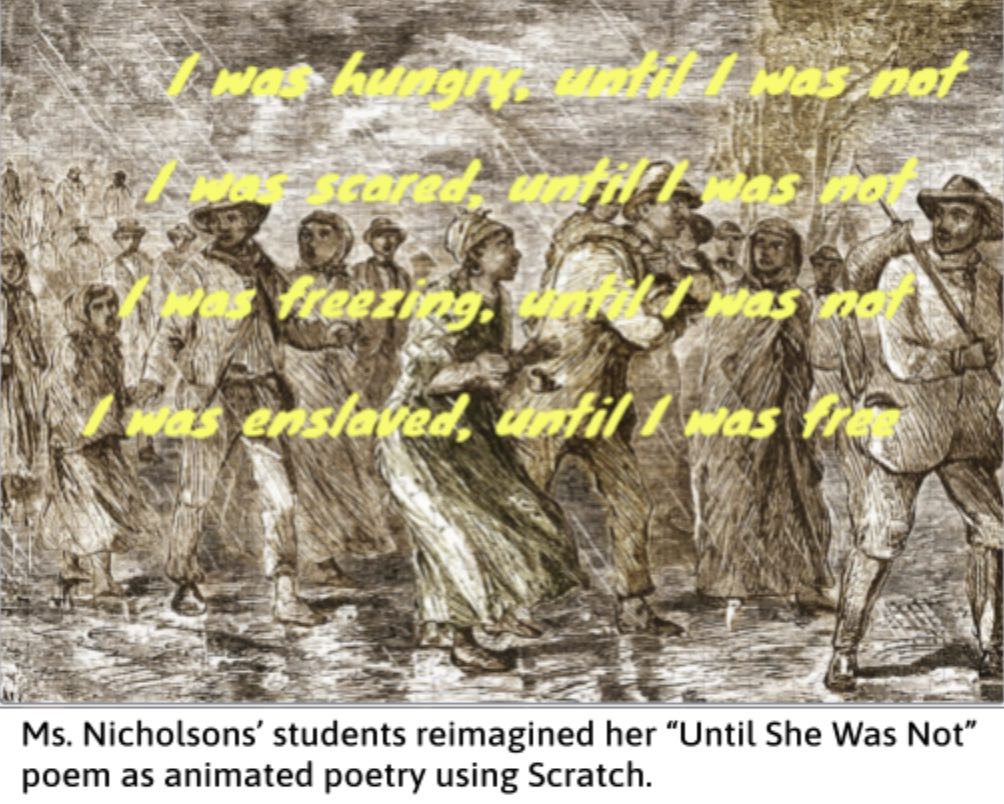 Ms. Nicholson's students utilized Scratch, a free kid-friendly, block coding platform, to create thoughtful and complex animated poems. The end result was a collection of poetry that beautifully and creatively illustrates the depth of their learning.
The instructional practice of integrating instructional technology with meaningful, real-world context observed in Ms. Nicholson's classroom demonstrates how the intersection of content standards with the practices of ISTE Standard for Students Creative Communicator can empower student voice, self-expression, collaboration, and creativity. As Ms. Nicholson reflects on the student artifacts created from this unit of study, she acknowledges the promising practice of technology integration in meeting the needs of her diverse learners "Integrating technology into my thematic projects has allowed all my students to express their creativity in new ways and to be successful in their work. This is especially relevant for my students with learning disabilities and has enriched my teaching in ways I have never imagined."