Foshay Learning Center Technology Academy: The Future's so Bright!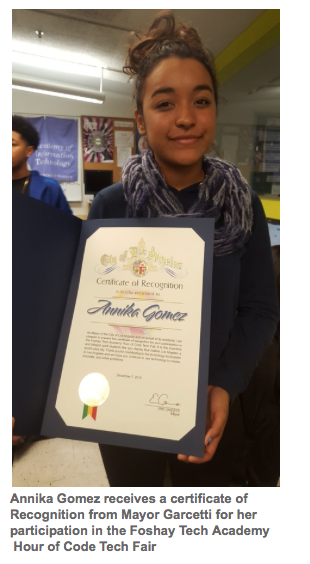 CELEBRATING TECH ACADEMY SENIORS
The Tech Academy senior class of 2016 gave the most professional presentations to date at Ignited USA, held in April. First place went to
Say Yes to Consent
for their comprehensive and mature campaign on Sexual Consent. Second Place went to
Sphericodes
for their phenomenal presentation and enthusiasm for making computer science available and accessible to all.
Ignited also awarded internships to Annika Gomez from Side with Peace and Lilly Diaz, Sphericodes and three time NCWIT Aspiration Winner! Every student also received a Certificate of Recognition from Mayor Garcetti for their "inventive and intrepid spirit" for their Hour of Code event.
What Does the Future Hold? We have 60% of the 50 seniors going to a 4 year university next year, 30% are going to Community college and the rest plan to work or join the military. We do expect 100% to graduate and just about 60% are planning to study computer science, engineering or other tech based subjects.
I can't say enough about our Girls Build LA club this year and their leadership and dedication to CS awareness and access to other girls through workshops and positive messaging. After starting this semester with winning third place in a hackathon, they have hosted 5 Computer Science workshops to a group of middle school students and support a 4th grade girls coding club at Melrose Elementary.
Their leadership has started a movement on Foshay's campus of interest in computer science. In April they brought 50 students to an engineering day at USC - half of those students were middle and high school girls who are interested in joining the Tech Academy when they are in 10th grade. We also had eight 10th graders attend a Hackathon at USC, and we have a list of girls who want to be invited to new Girls Who Code club events.
The leaders of the club have also won NCWIT Aspirations in Computing awards, attended a special event with the Mayor and Jessica Alba as part of the Women's Leadership Series, they are all certified in HTML and JavaScript and four of the six founders have been offered summer internships.
For more information about the student projects or the Technology Academy at Foshay Learning Center, please contact Leslie Aaronson at leslieaaronson01@gmail.com.