Return to Headlines
Los Angeles Unified School Board Commits to Transitioning to 100% Clean, Renewable Energy (12-3-19)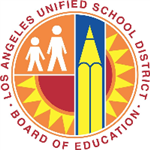 News Release
CONTACT:
Shannon Haber, 213.241.6766
Los Angeles Unified School Board Commits to
Transitioning to 100% Clean, Renewable Energy
LOS ANGELES (Dec. 3, 2019) – The Los Angeles Board of Education today approved a resolution sponsored by Board Member Scott M. Schmerelson, Board Vice President Jackie Goldberg and Board Member Dr. George J. McKenna that commits Los Angeles Unified to 100 percent clean, renewable energy by 2040. The School Board also calls on city, state, and federal officials and government agencies to work alongside Los Angeles Unified in taking rapid and effective action on climate change to protect current and future students, families, and communities.
The Intergovernmental Panel on Climate Change of 2018, the Fourth National Climate Assessment, local and international climate scientists, and the City of Los Angeles have declared a climate crisis, calling for a significant reduction of greenhouse gas emissions from the burning of fossil fuels by 2030, and net zero carbon by 2050, in order to mitigate the most catastrophic effects of global warming and climate change.
"Los Angeles Unified is the largest school district in the country with an elected Board," Board Member Scott M. Schmerelson said. "We are committed to preparing our students to be college and career ready. But our children are telling us that all the preparation in the world will be meaningless if we are unable and unwilling to transform our energy systems to avoid the frightening reality that we are rapidly, and perhaps irreversibly, destroying the health of the planet that they will inherit."
"With every new wild fire, flood, and snow storm, the urgency of the climate crisis is becoming more apparent to all of us," Board Vice President Jackie Goldberg said. "It is now time for bold action, and we have to do it for the sake of our children, grandchildren, and all Los Angeles Unified students."
"Transitioning to 100 percent clean, renewable energy is a courageous endeavor; it is an aspiration, but we have to put it out there as something that we aspire to do as a policy and not as a discussion item," Board Member Dr. George J. McKenna III said. "We will convene a task force of diverse voices to examine the feasibility, assess costs, gaps, and opportunities for the District to achieve this bold goal."
"I want to recognize all of the students and parents who have taken a stand to better the world we live in by advocating for better environmental policies and we as adults need to be active partners in that effort," Board President Dr. Richard Vladovic said. "As the second-largest District in the United Sates, we strive to be the greenest District and lead the way for other organizations to do the same."
"Congratulations to all our climate change advocates" Board Member Mónica García said. "Today, you led Los Angeles Unified into the next phase of work to make our District sustainable, green and closer to 100 percent renewable energy."
"Four years ago, nearly 200 countries signed on to the Paris Climate Agreement with a bold agenda to combat the effects of climate change," Board Member Nick Melvoin, also a co-sponsor, said. "Today, Los Angeles Unified affirmed our commitment to lead this fight at the local level, and I hope that we can count on our partners to help make these goals possible. We all have an obligation—from the global stage to our local schools—to leave our children with a cleaner, healthier, and more sustainable planet."
"Climate change calls for urgent action, and our District is and should be a leader in environmental protection and sustainability," Board Member Kelly Gonez, another co-sponsor, said. "This resolution shows our commitment to being better stewards and neighbors and to work collaboratively with advocates, labor partners, students, parents, and staff on behalf of a better and greener Los Angeles."
Los Angeles Unified is already committed to reducing 20 percent of energy consumption by 2024 and has implemented a number of energy-saving measures, including the Lighting Retrofit Program at 100 schools, the direct install program with the Los Angeles Department of Water and Power at 12 schools, Prop 39 energy efficiency upgrade projects at 21 schools, and is an active participant in the U.S. Department of Energy/LA Better Buildings Challenges, as well as the Zero Energy Schools Accelerator.
"Los Angeles Unified remains committed to reducing our carbon footprint," Superintendent Austin Beutner said. "We will now begin to achieve the goal of transitioning to 100 percent clean, renewable energy."
"This is a critically important step in the effort across the City to combat the effects of Climate Change," Los Angeles City Councilmember Paul Krekorian said. "I applaud the Board for making a strong commitment to a healthier future for our children."
"The support of this resolution will help secure a healthier environment for our students and community," Marshall High School student Nyzell Guzman said.
"Given the realities of the climate crisis and how critical it is that everyone get on board, virtually everywhere we turned, we met with enthusiastic support and a willingness to assist us in getting this done," Climate Reality Project Los Angeles Chapter co-chair Michael Zelniker and chapter co-lead Sybil Azur said. "We are profoundly grateful to the many Los Angeles Unified students, teachers, parents and activists who are members of our very large and committed coalition. Led by Board Members Schmerelson, Goldberg and McKenna, Los Angeles Unified transitioning to 100% clean, renewable energy will benefit our students, our families and communities in profoundly positive ways."
###