Return to Headlines
Los Angeles Unified Unveils New Food Truck, Reinforcing Historic Investments in School Meals for Students (09-08-2023)
CONTACT: Jonathan Fu
communications@lausd.net
FOR IMMEDIATE RELEASE
Sept. 8, 2023
Los Angeles Unified Unveils New Food Truck, Reinforcing Historic Investments in School Meals for Students
Food Truck Empowers Schools To Celebrate Student Achievement
Los Angeles, CA (Sept. 8, 2023) – In alignment with Superintendent Alberto M. Carvalho's 2022-26 Strategic Plan, Los Angeles Unified will introduce a new food truck to its Café LA food services program, enabling schools to celebrate student achievement with healthy and delicious meals.
"There is no better addition to a celebration than a food truck serving what kids want to eat," Superintendent Alberto M. Carvalho said. "With our new Café LA food truck, we'll have another avenue to provide free and nutritious meals for students. It is essential that we meet students where they are with fun and engaging meals to ensure that all kids have the nourishment they need to reach their full academic potential."
Los Angeles Unified's new food truck will be able to serve up to 400 students at a time during special school celebrations, with unique menu items designed to be fun and engaging for students. The self-contained kitchen facility can serve a variety of menu items, including chicken wings, hamburgers, a variety of tacos, dumplings, loaded nachos, vegan options, salads and fruit, depending on the preference of the school.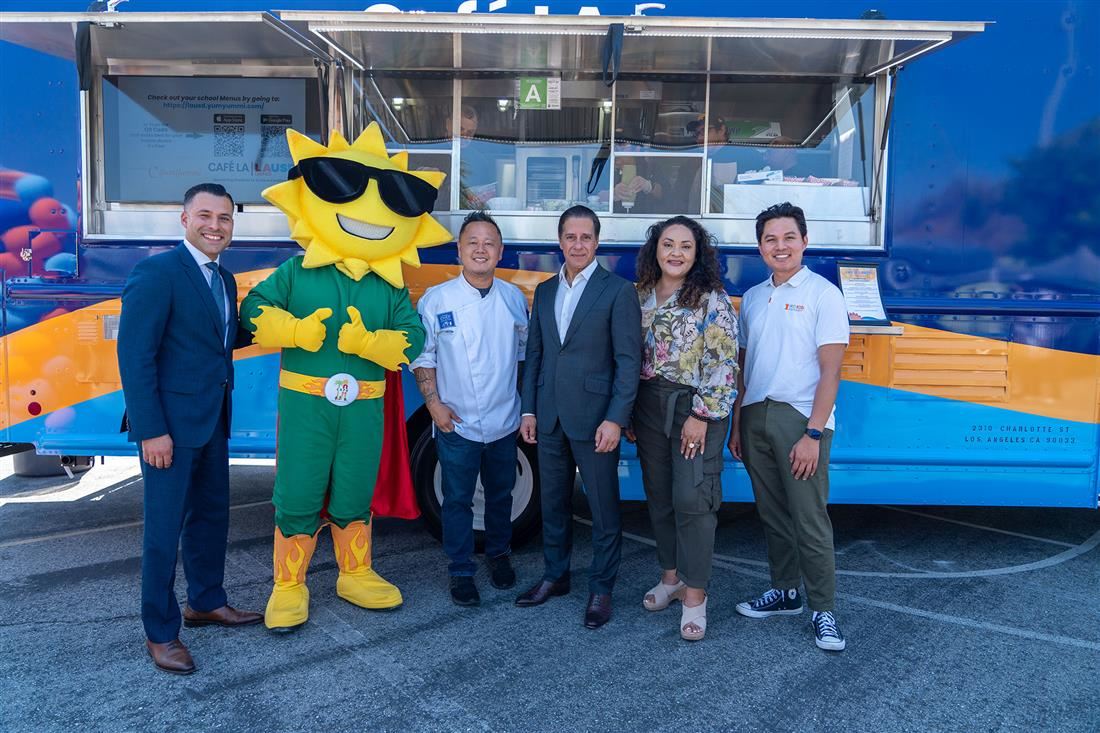 "Our partnership with No Kid Hungry has enabled Food Services to add a new dimension to our operation in alignment with Superintendent Carvalho's Strategic Plan," Los Angeles Unified Director of Food Services Manish Singh said. "This new food truck amplifies our commitment to provide fresh and innovative meals, contributing to student wellness by attracting more secondary students to participate in California's Universal Meals program."
Funded by a donation from No Kid Hungry with supplemental funding provided by the California Department of Education's Kitchen Infrastructure and Training fund, this new food truck will travel to schools on request to celebrate academic excellence and achievement. Meals will be funded by federal funding facilitated by the state.
"Los Angeles Unified has led the way on Breakfast After the Bell programs, and it is great to see how they are launching new innovative initiatives to increase participation and get more students excited about school meals," said No Kid Hungry California's Tommy Le. "We are incredibly proud to partner with Los Angeles Unified's Café LA to reach many more students with the nutrition they need to achieve their dreams."
The District will introduce three additional food trucks by the end of 2024, allowing each Los Angeles Unified region to have its own dedicated food truck. The introduction of a new food truck highlights Los Angeles Unified's historic and ongoing investments to ensure that students are fed fresh, healthy and nutritious meals. The District has committed significant investments to support more scratch cooking at schools, including a $7 million investment in combination ovens and a $30 million investment in commercial-grade air conditioning equipment in cafeteria kitchens.
The District's Food Services Division – widely known as Café LA – maintains an ongoing partnership with the Culinary Institute of America and the California Department of Education, empowering the Food Services staff with industry-leading culinary practices to bring more fresh cooking to school kitchens.
Overseeing one of the largest school meal programs in the nation, Café LA serves 525,000 meals daily with 3,600 kitchen staff and 200 support staff across Los Angeles Unified. Café LA serves meals that meet and exceed USDA's dietary guidelines for Americans. All menus, including nutrient and allergen information, can be accessed by downloading the free digital app YumYummi.
"It makes such a difference for our students when we can give them meals that aren't just healthy and nutritious but delicious — it enriches the soul," Board President Jackie Goldberg said. "I'm very happy about the direction our District's culinary services are headed in, and I'm excited to see this new truck in action at a school celebration."
"In a District where more than 80% of our students come from families living in poverty and struggling with food insecurity, it is wonderful to see that Los Angeles Unified continues to provide delicious and nutritious meals at our school sites," Board Vice President Scott M. Schmerelson said. "The addition of this food truck and a selection of new menu items is a testament to our commitment to the well-being of our students and their families."
"The new Café LA food truck will provide our students an opportunity to experience school foods in a fresh and modern way," Board Member Dr. George J. McKenna III said. "It will continue to redefine the way that the District engages students and innovates our food service offerings."
"The health and well-being of our students will always be a top priority; no one can learn on an empty stomach," Board Member Dr. Rocío Rivas said. "The District's meal program already provides regular nutrition through our campuses, and the Café LA food truck is a welcome festive addition that can provide more schools equitable access to healthy food for special occasions and celebrations."
"This is an exciting and innovative addition to LA Unified's food services program," Board Member Nick Melvoin said. "As we continue working to revamp our school meals with healthier, sustainable, and great-tasting options, this new food truck will provide the nourishment kids need with a fun and creative twist."
"As an LAUSD parent, I know how important our food services are to our students," Board Member Kelly Gonez said. "Our new food truck will bring delicious options directly to our students across Los Angeles Unified, bringing excitement and a bit of celebration along with it."
"Watch out, LA Foodies, Café LA has the hottest new food truck on the scene just for Los Angeles Unified students," Board Member Tanya Ortiz Franklin said. "Our schools are always looking for exciting new ways to motivate and incentivize our students with attendance, academics, and other accomplishments, and this new food truck is just the ticket. Thank you to our sponsors and staff for making this a reality for our students."
For the most up-to-date information, please follow Los Angeles Unified on Twitter at @laschools and @lausdsup, Instagram at @laschools and @lausdsup and Facebook at @laschools and @AlbertoMCarvalho1.