Return to Headlines
Gledhill Early Education Introduces New Outdoor Classroom (03-08-2023)
CONTACT: Jonathan Fu
communications@lausd.net
FOR IMMEDIATE RELEASE
Mar. 8, 2023
Gledhill Early Education Introduces New Outdoor Classroom
New $1.72 Million Investment Promotes Engaging Learning for Preschoolers
Los Angeles, CA (Mar. 8, 2023) – Reinforcing Los Angeles Unified's ongoing commitment to creating outdoor learning spaces, Gledhill Street Early Education Center recently introduced a new outdoor classroom that encourages our youngest students to explore important concepts in a safe and engaging outdoor environment.
"Play, curiosity and exploration are all critical elements of a successful education," Superintendent Alberto M. Carvalho said. "These outdoor classrooms provide a special opportunity for our youngest learners to engage with nature in a manner that increases student capacity for learning and success."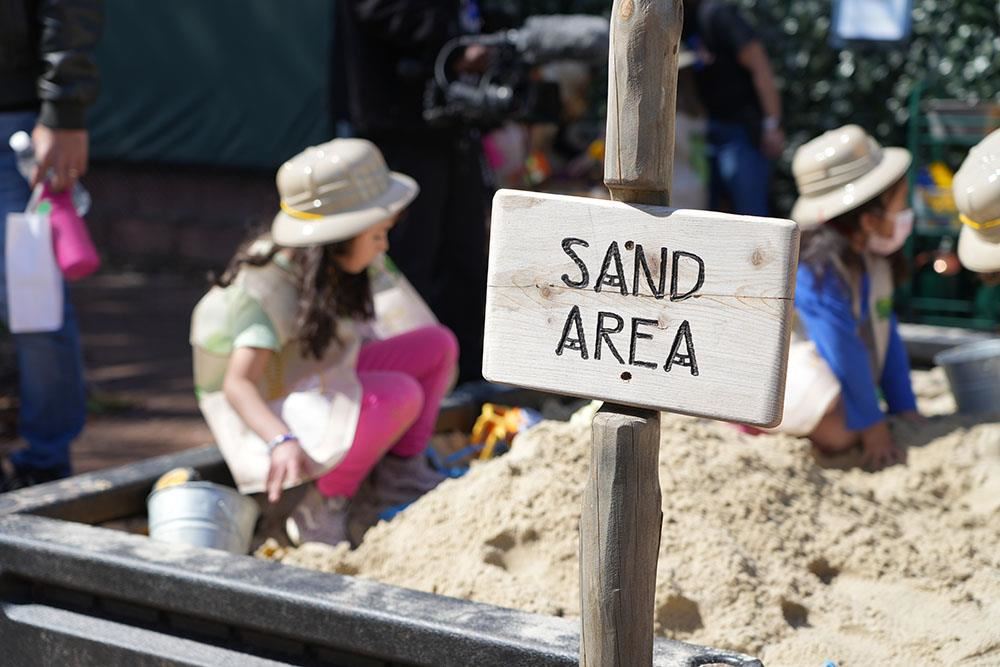 Designed as a Nature Explore Outdoor Classroom, Gledhill Street Early Education Center's new outdoor space includes several learning stations designed for preschoolers, including stations dedicated to music, scientific exploration and large-motor development. Field-tested and research-based, these learning stations allow students to acquire knowledge and understanding in a nurturing outdoor space with the help of teachers and trained support staff.
"We want our students to develop a meaningful relationship with nature and the environment that surrounds them," Region North Superintendent Dr. David Baca said. "Gledhill's newest addition gives our youngest students the opportunity to engage with nature in ways that enrich and bolster their educational experience."
Gledhill's new outdoor space is divided into several distinct areas to promote a diverse mix of educational activities, including a small performance stage, a nature and art area, a gathering space and planting area to promote social, emotional, physical and academic curiosity.
"I am so excited for Gledhill's new Nature Explorer Outdoor Classroom," Board Member Kelly Gonez said. "These spaces provide such joyful and engaging outdoor learning experiences for our youngest students, and I look forward to seeing its impact on the daily lives of our students, faculty and families."
One of 15 completed Nature Explore Outdoor Classrooms within Los Angeles Unified, this $1.72 million investment at Gledhill Early Education is part of a District-wide initiative to enhance outdoor learning opportunities for students in a safe, engaging and sustainable manner.
"Outdoor classrooms help our youngest learners experience the transformative power of nature through play and exploration," Early Childhood Education Executive Director Dr. Dean Tagawa said. "Los Angeles Unified's continued investment in these outdoor spaces help our children understand the importance of our natural world. We hope this investment will create a new generation of researchers and environmental engineers."
In alignment with Superintendent Carvalho's 2022-26 Strategic Plan, this new outdoor space also reaffirms the importance of providing students with a well-rounded educational experience that instills a love of learning and builds a variety of critical skills for world readiness.
"I love these projects, nothing is better than connecting students to nature," Chief Facilities Executive Mark Hovatter said. "You see their wonder and excitement as they go from station to station, exploring and learning something entirely different and new. While technology has become ingrained in our lives, we're happy to provide a space for our students that's rooted firmly in nature — electronics free. And there's not a battery anywhere out here."
Additional Nature Explore Outdoor Classrooms across Los Angeles Unified are currently under development until 2026, with an estimated combined budget of $89.5 million. These outdoor areas are designed to be nurturing and calming places of learning that allow our youngest learners to build the necessary skills to graduate ready for the world.
For the most up-to-date information, please follow Los Angeles Unified on Twitter @laschools and @lausdsup, Instagram at @laschools and @lausdsup and Facebook at @laschools and @AlbertoMCarvalho1.
###