Return to Headlines
Board Member Tanya Ortiz Franklin's Statement on Keeping Schools and Communities Safe in Response to Odor Near Dominguez Channel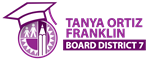 Contact: Stephanie Salazar
s.salazar@lausd.net, 626-758-7748

Los Angeles Unified Board Member Tanya Ortiz Franklin's Statement on Keeping Schools and Communities Safe in Response to Odor Near Dominguez Channel

LOS ANGELES (October 20, 2021) — Over the past two weeks, our students and families of Carson and neighboring cities have been impacted by an odorous nuisance. While I'm encouraged by the recent efforts to minimize the impact and neutralize the odor, it is shameful and concerning it took 12 days to initiate clean-up and address the numerous concerns expressed by our community members. I urge Los Angeles County to develop and commit to a more proactive, urgent and equitable approach to climate change, starting with restoring the Dominguez Channel to a healthy estuary. For too long our most vulnerable communities have been negatively impacted by environmental injustices that exacerbate health and racial disparities and impact quality of life. Our communities and families we serve expect, and deserve, a timely response from governmental agencies to address their concerns.

As the LA County Department of Public Works continues to ensure full containment of this issue, our School District and my office stand ready to partner to ensure environmental safety and justice for our communities. The LA Unified Office of Environmental Health and Safety continues to monitor the situation and work with the County to measure air quality every day, at every school. We have the strongest MERV-13 air filters and our schools have worked to minimize the unpleasant smell for students when possible, keeping students indoors when most impacted by the smell. LA Unified has continued to provide guidance to our principals and staff, and we have updated our families on the efforts our school district is taking to ensure the wellbeing of our students and staff.

Thank you to Assemblymember Mike Gipson and Representative Nanette Barragán for raising this issue to state leaders to uplift the need for the City of Carson to receive the necessary resources to support residents impacted by this event. I commend Supervisor Holly Mitchell for her leadership to implement a relief program to provide temporary aid to community members who have been impacted as well. Impacted residents can apply for reimbursement by visiting bit.ly/DC-Reimbursement.

If you are concerned about the odor, please contact LA County Public Works at (626) 300-2644. If you have health-related questions, the call center is open seven days per week from 7:30-6:30 p.m. at (800) 675-4357.
###