Becoming a Regional Ambassador | Convertirse en Embajador de Región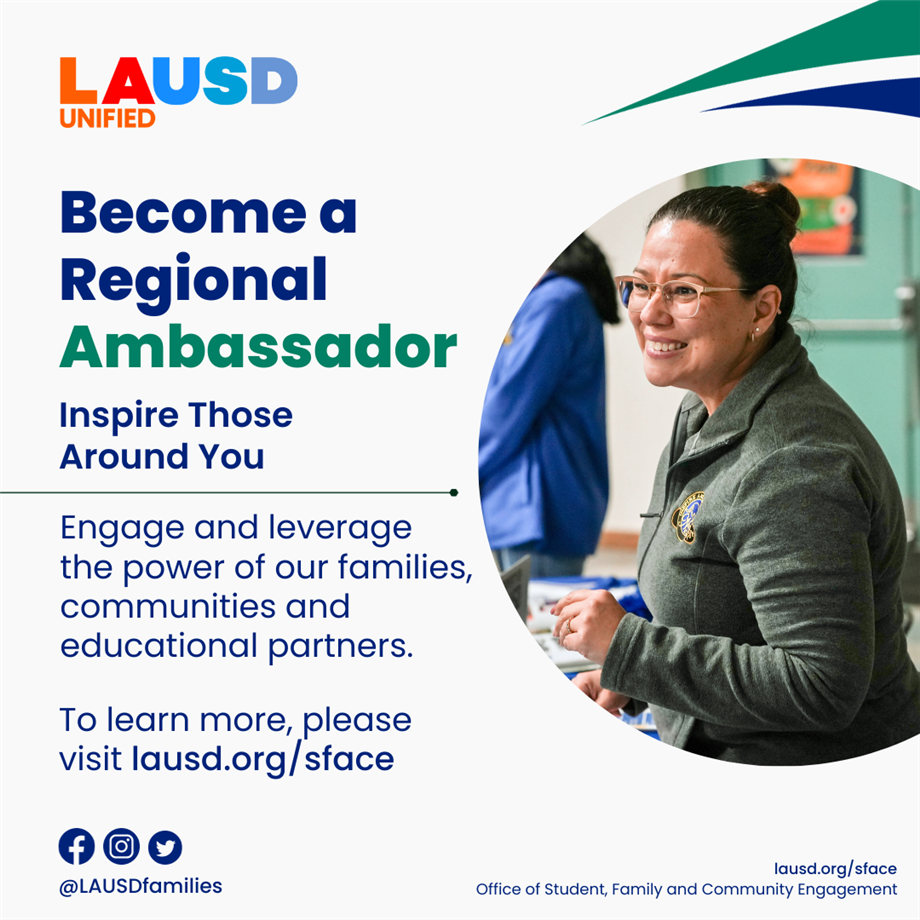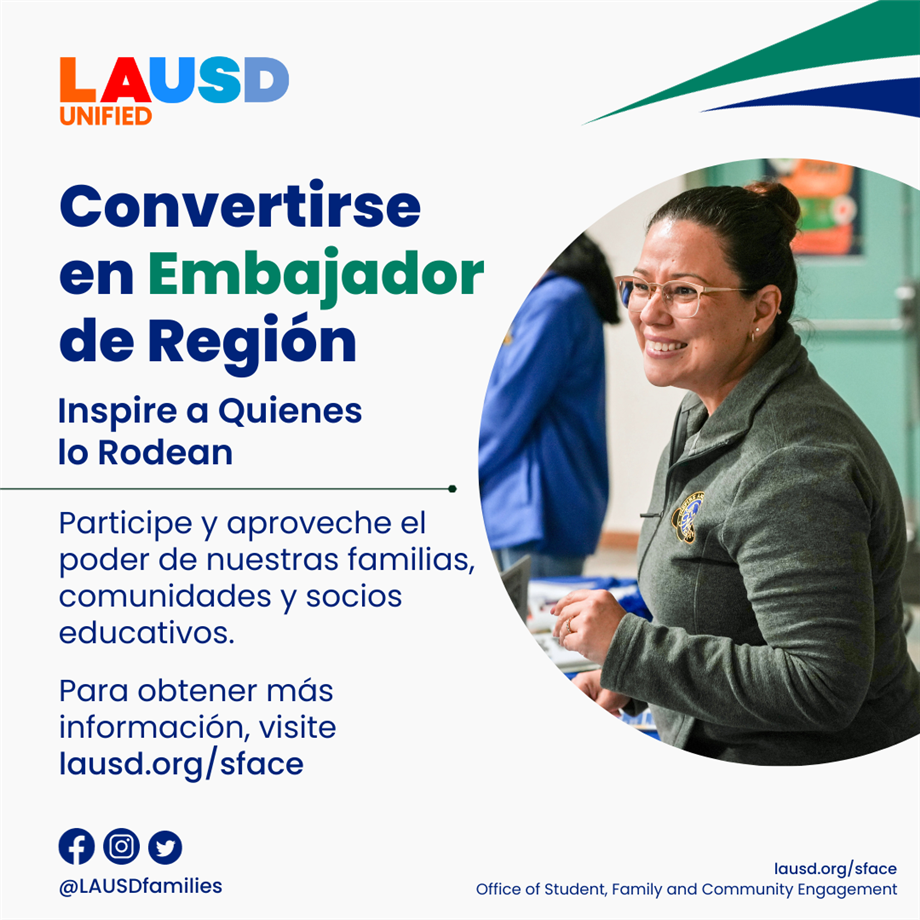 Inspiring authentic engagement and leveraging the power of our families, communities and educational partners.

The pathways for ambassadors will be centered on:

Students with Special Needs
English Learners (Emerging Bilinguals)
Local Control and Accountability Plan (LCAP)

The Los Angeles Unified Region Ambassadors will be valuable advocates and guides who inform their school communities about District services and resources.

Each segment of learning will be hosted in a hybrid format to meet the preference of our diverse families. This means you can learn with us in-person and online.

---

Inspirar un compromiso auténtico y aprovechar el poder de nuestras familias, comunidades y socios educativos.

Los trayectos para los embajadores se centrarán en:

Estudiantes con Necesidades Especiales
Aprendices de Inglés (Bilingües Emergentes)
Plan Local de Control y Rendición de Cuentas (LCAP)

Los Embajadores de Región del Distrito Unificado de Los Ángeles serán valiosos defensores y guías que informarán a sus comunidades escolares sobre los servicios y recursos del Distrito.

Cada segmento de aprendizaje se realizará en un formato híbrido para apoyar las preferencias de nuestras diversas familias. Esto significa que puede aprender con nosotros de modo presencial y en línea.
Click the Box Below to Download a Flyer
Region East

Wednesday, November 8, 2023 English & Spanish

Wednesday, February 7, 2024 English | Spanish

Wednesday, March 13, 2024 English | Spanish

Region West

Monday, November 6, 2023 English & Spanish

Monday, February 5, 2024 English | Spanish

Monday, March 4, 2024 English | Spanish

Region South

Tuesday, November 14, 2023 English & Spanish

Thursday, February 8, 2024 English | Spanish

Thursday, March 7, 2024 English | Spanish

Region North

Tuesday, November 28, 2023 English & Spanish

Tuesday, February 6, 2024 English | Spanish

Tuesday, March 5, 2024 English | Spanish

Region East

Wednesday, November 29, 2023 English | Spanish

Wednesday, January 31, 2024 English | Spanish

Wednesday, May 29, 2024 English | Spanish

Region West

Tuesday, November 28, 2023 English | Spanish

Tuesday, January 23, 2024 English | Spanish

Tuesday, May 7, 2024 English | Spanish

Region South

Tuesday, November 28, 2023 English | Spanish

Tuesday, January 23, 2024 English | Spanish

Tuesday, May 7, 2024 English | Spanish

Region North

Wednesday, November 29, 2023 English | Spanish

Wednesday, January 31, 2024 English | Spanish

Wednesday, May 29, 2024 English | Spanish

Region East

Monday, November 6, 2023 English | Spanish

Thursday, February 22, 2024 English | Spanish

Thursday, April 4, 2024 English | Spanish

Region West

Tuesday, November 7, 2023 English | Spanish

Thursday, February 15, 2024 English | Spanish

Friday, April 12, 2024 English | Spanish

Region South

Monday, November 13, 2023 English | Spanish

Tuesday, February 27, 2024 English | Spanish

Tuesday, April 30, 2024 English | Spanish

Region North

Monday, November 13, 2024 English | Spanish

Wednesday, February 14, 2024 English | Spanish

Thursday, April 18, 2024 English | Spanish